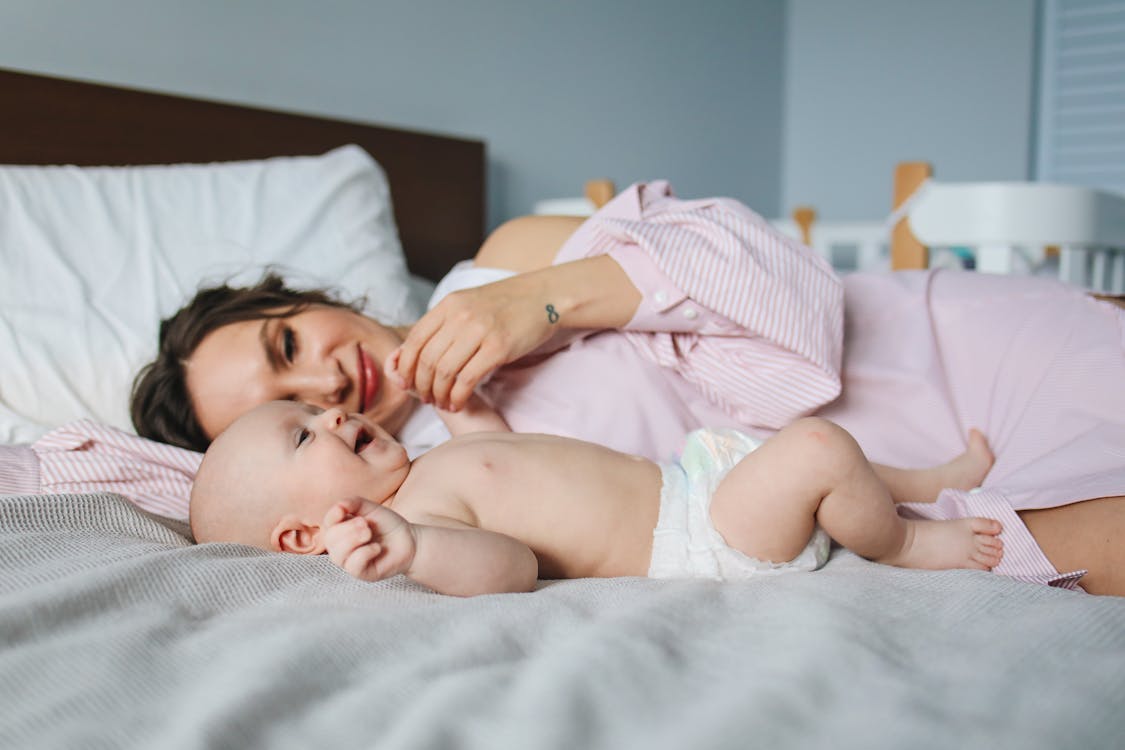 Congratulations on being a new mom! It is going to be a challenging journey filled with restless days and sleepless nights. But, it will also be a rewarding and joyful experience unmatched by any other.
Whether you are still expecting, welcoming your baby, or already raising little ones, know that you aren't alone in the journey.
As you go through this chapter in your life, you may feel happy and anxious at the same time. Nurturing and raising a human being can be scary, which is why you need all the help you can get to make the journey a bit easier.
However, all the parenting advice coming in from all sources can be overwhelming. So, we've narrowed down the list for you. Here are the top 10 parenting life hacks from parents all over the world.
#1: Parenting Life Hacks On What To Buy
Becoming a parent also means additional expenses in your household. Saving up for your kid's future is a big must, so you should spend your money wisely. There is no need to spend on nursery items parents regret buying. Some examples are diaper changing tables and rocking chairs. Instead, invest in products you can use long-term and items you cannot improvise!
Let go of the diaper changing table because you can simply buy the changing pad on top. You can place it on any surface you wish to use as a changing table. Are you thinking of buying a swing for your kid? Test your parenting life hacks if you can do it yourself by tying a sheet around a sturdy table to turn it into a hammock. You not only save money, but it's also a fun alternative.
Also, do not always assume a purchase will be worth it just because it seems like you could use it for your next baby. Some furniture, indeed, takes years before you need to change them. However, you may lose or break some parts before getting the item's full use.
#2: Parenting Life Hacks For Feeding Your Baby
Aside from sleeping, eating is the most frequent thing that babies do! They go from being newborn milk gulpers to picky toddlers. So, mealtimes can be a challenge for parents. We want our infants to get all the nutrition they need so they can grow big and healthy. At one point, all parents will have to take an extra step to face challenging feeding times.
Breastfeeding helps mothers connect with their babies, but fathers can take part in this bonding time too. Pumping breastmilk allows dad to help with feeding while giving mom some extra time to rest.
Pumping also comes in handy when you need to take short trips out. Just keep your milk warm in a thermos with hot water. You can also try to incorporate baby food into your kid's diet.
Feeding a toddler can be tricky because they begin to yearn for a sense of control. Are you struggling with a picky eater? Mix in those veggies in blended foods or hide them inside some stuffing during breakfast. Make eating time fun by using the no-fail parenting hacks eating game of "here comes the spoon."
It's good to give little kids some independence while eating. However, mealtimes can get messy when you do. As a new parent, you probably used up many paper towel or toilet paper rolls cleaning up your kid's messes.
So, now is the time to get creative with budget-friendly
feeding tools
. Coffee cup lids and cupcake liners are perfect as catch drips, especially for popsicles. Another fun and cool way to eat messy foods are in the bathtub right before bath time!
It can be tough to convince your baby to take their medicine when they're sick. If your child refuses to drink their cough drop or syrup, you can use a straw and hide it behind their favorite juice. You may also draw a chart on the prescription bottle to keep track of their intake. Keep a bendy straw wherever you go to make drinking fun and spill-free.
#3: Parenting Life Hacks For Bath And Diaper Change
Bath time is a special experience. During these moments, children learn so much about their body and their senses. Water play is a significant development phase for a toddler. So, it helps to make bath time a fun part of your day.
Babies and toddlers like to play during bath time. Make use of some parenting life hacks to make it less stressful for both of you. You may put toys in a basket when in a bathtub to prevent them from floating away. Your child's hair can also become messy. When they get tangled hair, try the dish soap and conditioner trick.
As your child gets taller, they will start using the adult-sized sinks. Use repurposed plastic bottles as a faucet extender so your little one can wash their hands on their own. You may convert the bottom drawers of your counters into a stepping platform for an easy-to-store stepping stool.
Diaper change can also be a challenge with wiggly babies. Distract your child with a toy or animated facial expressions as you sing their favorite nursery rhyme. Keep it fun by playing peek-a-boo with their clothing!
#4: Parenting Life Hacks For Dressing Up
Contemplating on what clothes to buy for your baby? You cannot go wrong with white outfits. It's easy to match with anything, and you'll be able to spot and clean messes easily. Choose onesies and jumpsuits that you can pull downwards in case of poo accidents!
Don't let your little one mess up their outfit before you even step out of the house. One of the top parenting life hacks is getting yourself ready before dressing up your child. You can wear an apron or towel on top of your clothes to keep them clean as you dress your toddler. Keep everything grab and go as you prepare your diaper bag, so you're ready for your next trip.
Once your child grows a bit older, you can help them get their feet in the right shoes. Cut up a sticker in half and place each in the middle of their shoes. Now it's as easy as matching pictures! You may also put slick paint on their sock heels to prevent them from slipping.
One way to motivate your toddler to dress up is by allowing them to do the last step by themself. You may help a little by pulling up their pants halfway or inserting their heads into the neck hole. Then, praise them big-time for dressing up!
Allowing them to complete their outfit gives them a sense of accomplishment. It also encourages them to put on their clothes more independently.
#5: Parenting Life Hacks For Calming Your Baby
Studies show that carrying your baby while slowly rocking them has a calming effect. The calming signals sent to your baby's brain come from the security they feel when being cuddled close. Swaddling them mimics the feeling of being in their mother's womb. You may do a back carry so you can still move around. When you need to take a break from carrying, you may use a weighted glove or blanket to give them a feeling of security.
Deep pressure massage also has a calming effect on older babies. Simply clasp your palms on their arms and legs or slowly wring in opposite directions. This therapeutic touch is one of the parenting life hacks for a crying baby or those suffering from a meltdown.
Is it a struggle to take a photo without your little one crying? Place your baby on top of their dad's blanket-covered chest. You've got yourself a cute backdrop for a precious photo to last forever.
#6: Parenting Life Hacks To Keep You Organized
Of all parenting life hacks, keeping a daily routine is a sure way to keep your day running smoothly. Make sure to structure your schedule in a reasonable and easy-to-follow way for everyone in the family. As you get used to a routine, it will be easy for your baby to understand eating time and sleeping time.
When you leave your child with a babysitter or another caregiver, make sure they follow your set routine. You may frame your child's schedule with some reminders like your contact number for emergencies. The glass on the frame doubles as a whiteboard canvas for additional notes you may want to leave. A color-coded clock can also be helpful to keep track of time easily.
#7: Parenting Life Hacks For Long Drives
Any parent knows the struggle of keeping a child seated in a car for long trips. However, this should not keep you from having fun during out-of-town vacations. Here are some creative parenting life hacks you can try out on your next trip.
One mom turned an old DVD case into a coloring case. You may stick a pad paper on one side of the case and a crayon box on the other. Masking tapes can also be a fun toy that leaves no mess as they unroll it. Because the tape is sticky, it does not drop easily.
Invest in a back seat organizer to keep all your child's food, drinking bottles, and toys. You may put their travel snacks in reusable plastic containers that fit the pockets. Cover their seats with large sheets to catch crumbs or crayon marks. Before taking the sheet to the laundry, clean up crumbs and small specks of dirt with a roll of masking tape or a lint roller.
#8: Parenting Life Hacks For Managing Difficult Behaviors
We have talked about how keeping a daily routine helps provide structure and prevent tantrums. However, as your child grows older, they become more aware of their wants. Temper tantrums are normal—it's all about learning how to manage them through positive parenting.
Always remember that behaviors are your child's response to a given situation. Before looking at how to manage their behaviors, we must first identify the cause of it. Some tantrums are preventable by simply hiding a gadget, not giving sugary treats, or having a set bedtime.
Young children are usually easy to redirect once they start throwing a fit. Just give them a new toy or engage them with your high-pitched, playful voice. Distract them from what is causing them to cry. Be flexible with your responses to different situations as well.
At an early age, they should begin to understand what is not allowed. Take throwing a toy, for example. You may use a deep voice to say, "No throwing." But always replace unwanted behavior with a positive one, such as asking them to shoot in a box or give it to mommy. If your child keeps running, you may teach them to do quiet feet.
Also, make it a habit to reward good behavior. Rewards do not need to be tangible objects such as toys, candies, snacks, or screentime. Toddlers love to be praised, get hugs, and receive high fives. A short playtime can also be a reward and a fun bonding experience for your family.
#9: Parenting Life Hacks To Keep Your Toddler Entertained
Parents have become very creative in finding ways to entertain their kids. When your child is occupied, you can do more around the house. But gone are the days when parenting life hacks revolved around being productive when your baby is asleep. You can use anything around the house as a toy or fun activity with a bit of imagination! Do-it-yourself toys are not only fun but budget-friendly as well.
Using an old box as a creativity tool does not only contain the mess. It also keeps your little one confined. You may stuff small items in a bottle and use it as a shaker or I-spy toy. You can turn a simple table into a fort if you place a blanket on top. If you fill a ziplock bag with grains or cornstarch slurry, you got yourself a sensory bag. Kids are not as difficult to please as you think!
#10: Parenting Life Hacks To Keep Your Child Safe
Our kid's safety is our top priority as parents. Keeping your home baby-proofed is one way to make sure your child lives in a safe space. It is good to invest in affordable babyproofing products to last a few years. You can also turn common items into babyproofing products.
To keep doors unlocked, put rubber bands across the doorknobs. You may also cut pool noodles in half and stick them in the side of the door. It will protect your child's little fingers from getting slammed by a closing door. These are also a good protector against sharp wires or hard edges—put one on exposed wires or the corners of your table.
When going out of the house, parents worry their kids may get lost. Make temporary tattoos with your contact number and put them on your child's arm. You can also make a bracelet using numbered beads to double as a cute accessory!
Bonus Parenting Life Hacks For Your Well-Being
Even if you are now a full-time parent and have someone precious to look after, you must not forget to care for yourself. Remember, you can only take good care of others if you are also healthy. Consider all aspects of your health—physical, mental, emotional, and spiritual.
Parents need a timeout to breathe and recharge too. Make sure that you're spending some time doing nice things for yourself.
You can make the most out of your time through these parenting life hacks:
Forget the non-essential tasks – it's okay to ditch folding the laundry a while!
Multi-task when you can, like brushing your teeth while peeing.
For longer sleep, change the diaper and feed your baby before going to bed.
Write down a list of must-dos for the week ahead.
Invest in things that can help you do chores more efficiently.
Read more articles in Preggy To Mommy to help you in this wonderful journey of being a parent. Enjoy this moment while it lasts. Soon enough, your little one will grow up before you even notice. Learn more parenting life hacks through our website and get to know how other moms conquer motherhood!
Frequently Asked Questions (FAQs)